U.S.A. –-(AmmoLand.com)- What is the defining feature of your favorite rifle?  If it's a semi-auto, reliability is surely key, though I'd argue that a base necessity of all firearms.  For a precision rifle, it seems a foregone conclusion that accuracy or really consistency is the central asset needed. While the old adage "you get what you pay for) isn't always necessarily true, it usually holds constant that higher-quality parts come at a premium price.  How then can you build a good budget precision rifle without breaking the bank?  Here's one way.
I started my build with a Remington 700 SPS Tactical AAC-SD chambered in .308.  Here are the tech specs, as provided by Remington.
308 Win with 20″ Heavy Barrel with 5/8-24 threaded muzzle
1 in 10 Rate of Twist for increased bullet stability
Hogue® Overmolded Ghillie Green pillar-bedded stock
X-Mark Pro® externally adjustable trigger system factory set at 3½ lbs. and adjustable to 2½ lbs
Weight:  7.5 lbs
I bought this rifle for around $400 used, not a bad price at all.  The action was silky smooth, the heavy barrel has shown itself to be capable of consistently sub-MOA accuracy.  Sierra MatchKing 168gr bullets seem to be the preferred round of the dozen or so brands I've tried.
The two weak links were immediately apparent, the Hogue stock and the notorious X-Mark trigger (which was subject to recall).  I didn't bother sending the rifle in for a 10-week stay at Remington for a fixed trigger, instead opting to avoid the hassle and upgrade at the same time.  A Timney 510 trigger with 3 lbs pull weight was the chosen cure, found for around $120 on sale.  As far as the Hogue stock was concerned, I liked the feel of it, not to mention the weight.  The front of the stock was cut a little too close to the barrel, so if shooting on a bipod with a suppressor, the stock would occasionally touch the barrel.  That's not acceptable in a good precision rifle, so a quick gouge with my pocket knife cleared enough non-structural excess to eliminate contact.  That was good enough for a few years before the inevitable upgrade came along.
When you want to swap out stocks, it's not enough for me to simply find a stock that just eliminates the offending problem, I also want upgrades in key areas.  The Grayboe Terrain stock adds in pillar bedding, QD sling slots, and detachable box magazines, without a ton of weight.  The Grayboe Terrain runs around $350 and wasn't a necessity for my budget build after modding the OEM Hogue stock, but a deal came across my desk and I couldn't pass it up.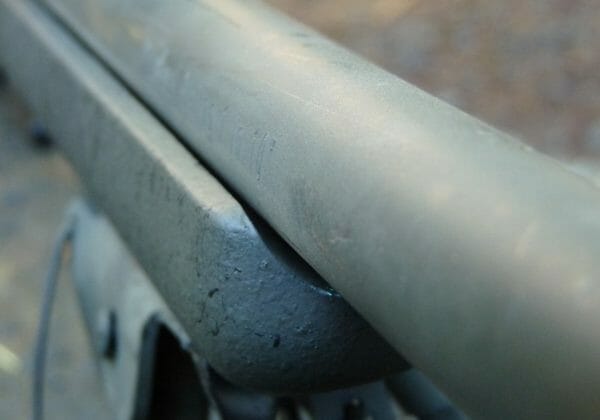 Optics are a chief concern for a precision rifle, for obvious reasons.  A good scope is a huge boon, while a screwy scope can leave you frustrated for multiple range trips as you rule out ammo, scope rings, and other possible causes of your below-average shooting.  I've found a gem in SWFA's fixed 10x optic, a rock-solid piece that features a great mil-quad reticle.  Despite running only $299, this scope has been a fantastic addition to this rifle and has made shooting from 100 to 1000 yards a far easier chore than other optics (at much higher price points).  The glass is crystal clear, the adjustment turrets have good tactile clicks, and the reticle gives a full 11 mils of holdover.  Yep, that's a 100-yard zero, holding over out to 1000 yards, without elevation adjustments required.  Budget precision rifle meets the inexpensive, excellent glass.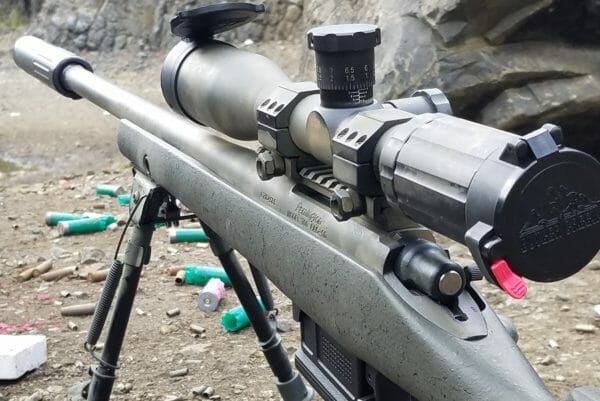 So far, with a base price of $400, optic at $300, and a trigger at $125, the rifle is only at $825.  The Grayboe stock (again, very optional) brings that up to $1175.  The stock is listed as a non-necessity, as the utility added by the detachable box magazines is nice, but not required.  Nor is the fractional accuracy boost worth it from a dollars-to-doughnuts basis.  The Timney trigger certainly helped out more in that regards on a per dollar basis over the X-Mark trigger.  For under $1000 I've got a rifle capable of taking down all of North America's big game, as well as scoring easy hits past 900 yards.  It's not the only base rifle out there capable of being a relatively inexpensive precision rifle, nor is it the only caliber that meets my needs, but it's one combination that's worked well for me.  Budget precision rifle achieved.
---
About Rex Nanorum
Rex Nanorum is an Alaskan Expatriate living in Oregon with his wife and kids. Growing up on commercial fishing vessels, he found his next adventure with the 2nd Bn, 75th Ranger Regt. After 5 tours to Afghanistan and Iraq, he adventured about the west coast becoming a commercial fishery and salvage SCUBA diver, rated helicopter pilot instructor (CFII) and personal trainer, before becoming a gear reviewer and writer."