SIG SAUER Reduced Power Mainspring Installation Guide
Iowa, USA – -(Ammoland.com)- Hey guys! John Furman here, one of the Brownells, Inc. Gun Gurus.
I wanted to share a quick tip on how to lighten your Sigs trigger pull for cheap. Here is an installation guide I put together with my P229 Legion handgun. This kit will work on any SIG Sauer P220, P226, and P229 with the newer style short mainspring. Brownells Edge Members get FREE Shipping on all their orders.
This kit contains a 17, 18, and 19 lb spring in it, which is up to a 7 lb drop from the factory spring depending on which spring you use and which model Sig you have. On my SIG Legion the 18 lb spring dropped my double-action trigger pull by about 3.5 pounds. Your results may vary depending on which particular Sig you have.
Installation is super easy and only takes a few minutes to do.
Step 1 – Safety first. Make sure your gun is unloaded.
Step 2 – Decock your hammer. Changing this spring is nearly impossible if the hammer is cocked.
Step 3 – Remove the grips. This is easy enough, just unscrew the two screws on each side with a proper flat head screwdriver. Throw those ugly screws in the trash and get yourself a nice set of hex / Allen screws to replace them. Hogue has a nice set of Grip Screws that we stock at Brownells.
Step 4 – You can now see the mainspring on the back of the grip towards the bottom. If you look on the bottom you'll see a hole in the plastic retainer. Use a pin tool to place into this hole and push up and out on that retainer to get it released from the metal part of the frame.
Step 5 – Now is a good time to grease up the hammer strut. You can wiggle the entire thing out of the gun, there's nothing holding it in place anymore. Grease up the part that sits inside the spring. On the other end of the strut, look for wear marks. Those are the friction points. Grease up anything that shows wear. Lucas Extreme Duty Gun Grease or Mil-comm TW25B both work great.
Step 6 – Put the spring and strut back into the gun. The strut has to engage the hammer the right way, so try pulling partially back on the hammer. If it pushes the strut down, it's in the right place. If it doesn't, try re-positioning it. Once you have the strut in right, put the spring retainer in the same way you took it out. I typically put it back in by hand, I find it easier just pushing on it with my thumbs.
Step 7 – Function check the pistol before you put the grips back on. You'll want to make sure it cocks properly, both double and single-action trigger pull works correctly, and the decocker works correctly. Just make sure to keep your hand clear from the mainspring and strut so you don't get pinched.
Step 8 – Reinstall the grips and you're done!
One thing that is important to note is that running a lighter mainspring will reduce the force that the hammer falls at.
If you're running ammo with hard primers you may run into issues. If you choose to do this to a carry gun, you'll want to run plenty of proper self-defense ammo through it as a test to ensure your ammo choice ignites reliably with the lighter mainspring. In my experience, the 18 lb spring has been reliable for me.
It is good to measure your trigger weight before and after the upgrade with a tool like the Wheeler Engineering Trigger Pull Scale found here.
---
---
About Brownells:
Serious About Firearms Since 1939, Brownells is the world's leading source for guns, gun parts and accessories, ammunition, gunsmithing tools and survival gear. With a large selection of both common and hard-to-find items, and an extensive collection of videos, articles, and gun schematics, Brownells is the expert for everything shooting-related. Committed to maintaining our great traditions, Brownells has more, does more, and knows more – and guarantees it all, Forever. For more information or to place an order, call 800-741-0015 or visit Brownells.com. Stay up-to-date with Brownells on YouTube, Facebook, Twitter, and Instagram.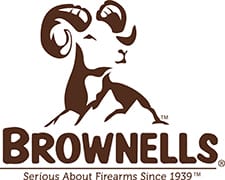 Brownells.com Coupon Codes
Disclosure: Some of the links below are affiliate links, meaning at no additional cost to you, Ammoland will earn a commission if you click through and make a purchase.